LOET VANDERVEEN
Tuesday, April 6, 2010
His eyes know the pain of loss all too well, yet Loet Vanderveen chooses to wear a smile. He watched war crumble his country. He saw both parents and his first love die way too early. He lost his home and all he owned twice, but all that heartache has softened his soul.
Vanderveen has seen the ravages of mankind, but his life's work has been the preservation of its innocence. Sculpture truly has been Loet's salvation. He takes his art and not himself seriously. His success is hard-earned and couldn't be more deserved.
Loet Vanderveen is one of the most prominent wildlife sculptors of his era. His pieces are instantly recognizable. Vanderveen has spent his life studying animal instinct and behavior. His art showcases the essence of each subject. Simple, exaggerated lines create incredible movement and fluidity in his sculptures. It's as if he's captured that animal's signature pose and frozen it in time. "I try to achieve the maximum result with the minimum detail, but still retaining the animal's character and mood."
Vanderveen has worked in nearly every medium. His career started in ceramics in the 1950's. He learned the art of reduced glazing from one of the masters of the technique in New York. Loet spent three years in the Big Apple learning and developing his own sculpting style before moving to Big Sur. He bought a kiln and built a big studio and quickly evolved from making pots into an architectural ceramist. During the hippie movement of the late 1960's and 70's, Vanderveen went through what he calls his "Biddy Period" – stylized ceramics of old women full of character. He even created a whole bordello with the johns, the girls and a madam.
For the past twenty-five years, Vanderveen has been doing animals exclusively. Initially, it was big, commanding ceramic sculptures. He later adorned his subjects with bronze horns and tusks. Loet has since switched to wax molds full-time. His elegantly, patinated bronzes are studies of animal form and beauty. "I've read zillions of books and been on any number of safaris in Africa. I like animals that are very dramatic like African horned animals or cheetahs with their extraordinary proportions."
Vanderveen also does high-end pieces for Limoge porcelain and Baccarat crystal. His limited edition piece of an African animal called greater kudu fetched $30,000 a pop. This year he finished a large, marble sculpture called Bongo. It is part of Monterey Museum of Art's "Collector's Exhibition."
"Loet's sculptures have this wonderful sensitivity to them," according to Michael Whittington, Director of MMA. "His large-scale works have a real presence to them, while there's this marvelous playfulness in his small-scale work."
Loet's love affair with animals dates back to his childhood. He was born in Rotterdam, Holland in the late 1920's. The city's beautiful, old Victorian zoo was just a short walk from Loet's home. He made the trek every day. "I used to spend hours there as a child getting into mischief," Loet says. "I went there once with a nanny, and I was watching the seals. I climbed in with them and had one run after me. I raced away but got stuck on a spike on the fence and tore my hand open. It was one of many accidents I had at the zoo."
Getting into trouble wasn't the only thing on Loet's mind. He was fascinated by the beautiful structure and elegant movement of the animals. "I thought animals were way beyond belief. I marveled at them. I was very interested in monkeys, and a few of them knew me. Their behavior, intelligence was remarkable."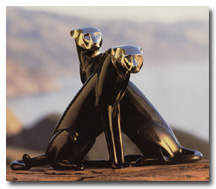 At just nine years old, Loet knew the zookeepers, and more importantly, they knew him. He had free reign of the place and often helped care for the animals. "They had a little lion cub and I would feed it practically every day, and then he grew up and they put him in the cage – and I was heartbroken."
Back then, zoos could be miserable places. Tigers and lions spent most of their days in cages. Loet hated seeing their sad faces and yearned to watch them run free in Africa. To this day, Vanderveen remembers that awful feeling of seeing his beloved animals in lockdown. But there's one image that haunts him even more.
It was 1:45 in the afternoon of May 14th, 1940, when the bombing started. Relentless and ferocious, Holland never had a chance. The Germans' bombardment started in the center of Rotterdam and spread out. Many knew it was coming, including Loet, and got out. Many stayed. In one afternoon, 617 people died, Rotterdam was in shambles, and the country surrendered to the Nazis.
That morning, before the bombing began the government ordered the Dutch army to shoot and kill all the dangerous animals at the zoo. They were worried about what would happen if they got out of their cages during the attack. Loet was crushed. "I got there right after the bombardment, and the whole place was in ruins. The lions and big cats – many of them were shot. But in the midst of us all, there was one elephant roaming. It was very, very poetic."
Among all the stories of death and destruction, there were also some amazing stories of survival. The zoo's chimpanzee made it out okay and turned up at the local bar. A seal was blown out of the pool and ended up in a canal in the city. Loet went to check on his home. It was obliterated. He wandered around aimlessly for awhile. "I went downtown, the first thing that hit me was the light… where there were shadows before from buildings, it was just flat. It was a very cruel, strong light."
The quiet chaos in Loet's mind lasted three weeks. "I was very much in shock. My memory was totally gone. I would meet people I knew, but I wouldn't remember their names." Eventually his memory came back, but Loet lost something just as valuable a short time later. His dad got a staph infection, and with no medicine to treat it, he died. Loet says, "He was very positive in every way, hardworking, honest, caring, very loving. I'll never forget him in the hospital during bombardments. Those are my last impressions of him."
Loet was just a teenager but very much on his own. You see, his mom died in a car accident when he was just eight years old. To have lost both parents and now his liberty, it was a very depressing time for Loet. "It caused a heavy mood daily, and I was anxious to get out of it." Being half-Jewish was another reason to get away. Relatives got word to Loet about an escape route through Holland across the Belgian border into France. He wrote it down on a little matchbook and began the trip on his bicycle.
He made it to Brussels where his extended family joined him for the rest of the long and scary trip. Loet made it to France but was arrested by the Germans and spent three weeks in a crowded prison. The Dutch government bribed the Germans to secure Loet's and several of his countrymen's release. "By the time I got out of all that mess, I was itching like crazy – full of lice."
An angry Vanderveen joined the Dutch army. Very grandly, he went on the Queen Elizabeth troop ship to England where he was decorated for valor by Queen Wilhelmia. Loet trained to be a pilot, but his depth perception was lousy. "I banged a few landing gears and the war really became a farce for me." He tried his hand as a navigator and bombardier. World War II ended, and Loet never saw real combat. "I never learned much about how to drop bombs. I did in training, but I missed very badly."
Vanderveen was honorably discharged from the army and moved to Switzerland. He had friends in the fashion industry who hired him as a sketcher. He got quite good and went to Paris hoping to become a designer. "I was introduced to commissionaires and nobody wanted me except this guy named Christian Dior, but Dior hadn't opened yet. I was introduced to him, and he said he would take me on. Like an idiot, I said, 'I'd like a job as a designer.' Of course it was no, he would only hire me as a sketcher. It was one of the biggest mistakes I ever made."
Loet did land a designing gig in London where it was easier to get postwar jobs. Vanderveen designed high-end sportswear for women. His style was trendy; more voluminous than restrictive. Vanderveen was making a name for himself in the industry, but after three years in England, much of the scenery was still bombed out and war torn. Loet needed a change. His American Visa cleared, and he packed his things for New York.
He set up shop on 7th Avenue where he went through five jobs in eighteen months. He quickly learned about America's cut-throat business model. "I wasn't happy in New York. I really disliked it intensely," Vanderveen reflects. But things got much better when painter Alba Heywood walked into his life. Loet was in love, had finally nailed down a steady designing job and studied ceramics on the side with Fong Chao (Far Eastern Curator at the New York Metropolitan Museum). Vanderveen felt a career in art and a quieter life calling him. "I always wanted to live close to an ocean in beautiful country. My partner went out to California, scouted the whole coast, and found Big Sur to be the most beautiful. Nobody knew about Big Sur back then."
They bought twenty acres for the cost of a modern day flat screen TV. Vanderveen and Heywood packed up their station wagon with their dogs, timber wolf and malamute and headed for California. "Motels did not want dogs," Vanderveen says about their cross-country trip, "but we smuggled them in, and the wolf would be racing in the bathroom all night long. It was quite wild."
When they got to Big Sur in 1960, they were on top of the world – quite literally. Their property was sixteen-hundred feet above the Pacific Ocean surrounded by nature's beauty. The long, windy trip through the forest south of Esalen provided the privacy and serenity they'd craved. Their architect was a student of Frank Lloyd Wright. In the tradition of his minimalist style, their home maximized the incredible views of the coastal mountains and panorama of the sea.
Loet and Alba were as close to heaven as possible. Professionally speaking, however, it was a different story. While Alba painted, Vanderveen built his own ceramics studio. Firing the kiln every day became a chore. "The first year I made $2,500," Loet said. "I did not know that by throwing pots you couldn't make a living. It's very hard work."
Desperate to make money, Vanderveen took his ceramic pots up the road to Big Sur's Coast Gallery. It was a fine arts gallery back then, and they welcomed Loet with open arms. Forty years later, he has never forgotten the gallery's generosity.
Around the time Loet partnered with the Coast Gallery, the country was going through some colorful changes. "There was a concentration of hippies forming in Big Sur. It was very drug-oriented, very sketchy. People just didn't have it together. They really couldn't cope in the world, but they could cope in Big Sur."
Loet and Alba were working full-time. They needed help around the house and with landscaping – and boy did they hire some beauties. "I had a girl that did housecleaning," Loet says with a smirk. "She was very strange. Every time when she left, she stripped. She just put everything into her backpack. I said, 'What are you doing?' She said, 'I just want to be free and have some exercise.'"
There was another one that was even weirder. "She used to be a Burlesque in New Jersey. I'll never forget her stage name was Va-Va-Varoom," Loet tries to hold back but can't. "She was apparently a hit even though she had small boobs. I never understood that." Her brain wasn't too big either. After several mishaps, the final straw was when she caught the vacuum cleaner on fire. Loet was happy to show her the door.
When Vanderveen went to town, he wore a sports jacket, shirt, and a tie. So it's easy to see how the times were passing him by, but all that wackiness was the inspiration for his Biddy Period. Some of the highlights: a complete brothel, a set of people on park benches and ceramic figures of old women full of freewheeling spirit.
In 1969, Loet and Alba's charmed life was over in a fleetingly ordinary night. Alba hadn't been sleeping well, and the doctor gave him medication to help him get some rest. He accidentally took too many one night and never woke up. "That was very difficult," and it's all Loet can say about it. His home is still decorated with his partner's art.
Loet was no stranger to loss, but this one stung. He buried himself in his work. The 1970's was a productive period for Loet. He began phasing out of his Biddy Period and was perfecting his signature animal sculptures. He experimented more with wax molds and liked what he saw. The smooth, patinated bronze components added a new, diverse look to his glazed ceramics.
By 1985, Vanderveen had met and begun a twenty-five year relationship with George Burton. Burton did the intricate, detailed finishing work on Loet's sculptures. George added a new dimension to Loet's work and life. But Vanderveen's quiet life would again be shattered that spring.
Vanderveen could see it coming off in the distance. The majestic view of green pines and oaks he so enjoyed was being invaded by an ominous, orange glow. The normal sounds of the roaring sea and wildlife were accompanied by the loud cracks of popping tree bark. Looking out his south-facing windows, towering plumes of smoke shot high above the fifty-foot redwoods. Then, one day, he got a knock on his door.
With a deep swallow, he answered and prepared for the worst, but to Loet's surprise, the local fire brigade official had good news. "We've saved your canyon! The fire's heading south. You're gonna be okay."
Vanderveen thanked the man, shut the door and tried to gather his thoughts. Forty-five minutes later, he went outside expecting to breathe a sigh of relief, but what he saw made him sick to his stomach. The air was thicker. The roar was louder. The winds had changed, and the fire in the distance seemed not so distant. "I knew somehow instinctively that I was finished."
Loet knew he had to get out. He took nothing. Two hours later, he'd lost nearly everything. At the first sign of daybreak, Vanderveen made the trek back up the mountain. The heat from the scorched earth radiated off his car. He made the final sharp turn into his driveway and stared into the endless sea of black. His Big Sur oasis had lost its battle with Mother Nature. The house was gone. Everything inside it – old photos, expensive art, memories gone. It was a bare piece of land.
The Rat Creek Fire, as it was appropriately named, burned more than 75,000 acres that spring. Lightning started it. Loet's property lost the war, but he did win some small battles. The large ceramics he'd hauled outside in preparation were a little crisp, but as he suspected, they made it. All the trees and shrubs died except a couple stoic redwoods. Amazingly, though, the rose bushes along the south side of his home survived. Somehow the flowers were still blooming. The roses seemed to symbolize the beauty of Loet's perseverance. It was all the motivation he needed to keep going. And again, he wouldn't be down for long.
His architect had the old plans and, with Vanderveen's total-loss insurance, he was able to rebuild on the same foundation. He trucked in trees and bushes. Things began greening up, the birds, deer and bobcats came back and Loet was back on his feet. Just a year after the blaze, he had a new and improved home. He even had enough left over to buy a condo in Carmel. Loet's social life has since picked up.
Vanderveen chose not to rebuild his large, ceramics studio. Instead, he built a smaller one and dedicated himself to wax. In the last twenty years, he's created hundreds of bronze animal sculptures. He signed deals with Limoge and Baccarat and has been working on a Noah's ark collection of crystal complete with a wooden ship. He's even gone back to some of his old biddies. "I did a sculpture of women in bronze, and I made a totem pole and they're sitting on each other's shoulders – it's a biddy totem pole," Loet says with a smile. "The next one is going to be two women on a seesaw, the bigger one on the bottom. I hope it's marketable."
Today, Loet's work can be found in more than 50 galleries. Museums around the world have Vanderveens on permanent display, and Queen Elizabeth, the Sultan of Oman, Bill Cosby and Barry Manilow collect his work. California Governor Arnold Schwarzenegger has bought more than 20 bronze bears over the years and given them to dignitaries around the world. The bears have become an official gift of the state. "Loet Vanderveen is truly a one of a kind artist," Schwarzenegger says. "His bronze bear sculptures capture both the natural beauty and symbolic importance of the California grizzly bear. Vanderveen's pieces are fitting representations of California's majestic wildlife and rich artistic heritage."
"I love doing what I do," Vanderveen says. "I don't care at all about leaving a mark. Most artists don't retire, and that idea does not appeal to me at all."
"Quite a few people have told me that especially the smaller pieces have a healing effect. They love to touch them, which makes them feel good. The ultimate experience was when I got a call from someone who was taking care of a guy in San Francisco who was dying of AIDS. He said he enjoyed my work so much that it's what he would talk about when he got up in the morning. When he died I got a wonderful, wonderful note. Also a blind person came to a show once. And I made him see animals with his hands. I sent him a sculpture of a rhino. He wrote back and said he did not know about rhinos until he held my piece. It was so touching. That's what makes what I do so worthwhile."
Written by: Ben Bamsey