DALE CHIHULY
Monday, March 8, 2010
Thirty feet of yellow neon stretch toward the rising moon. Each changing shade of dark brings a unique magic and mystery to San Francisco's de Young Museum. Lights from Dale Chihuly's Saffron Tower dance with the landscape. Its reflections float in the Pool of Enchantment like the soul of a longing lover. A reassuring promise emerges from the still water below, and like the path to salvation, it's a tangled trail of glass without beginning and without end.
The Saffron Tower is the centerpiece of Chihuly at the de Young, his largest museum exhibition ever. All of the creative periods of his revolutionary career fill eleven galleries. White milk glass stretches like vines from their neon, bulb-like bases in Glass Forest 3. In another room, tilted Japanese wood boats overflow with multi-colored glass balls and flowers. Twisty tentacles sprawl from five enormous chandeliers creating a feast of form. Red, blue, green and yellow patterns vibrate off the walls from hundreds of glass pieces resting on top of a clear Persian Ceiling. Glass boundaries are broken as light launches out of a greenhouse of glorious color in the 56-foot long Mille Fiori Garden. "The exhibition was two years in the making," Chihuly says. "We built the show ahead of time up in Seattle and laid out each room. We intended it to be big and I'm proud of what we accomplished." The exhibition stretches the breadth and depth of the artist's five decades of work triggering John Buchanan, Director of the de Young Museum, to boldly call Chihuly "the greatest living artist in the world today."
Dale Chihuly is not just a major player in the art world; he's one of those rare people who have actually changed the game. While glass has been around for 5,000 years and artists have been blowing it for 2,000, Chihuly came along and changed the shape and scale of the medium, also the way in which it is crafted and presented. Chihuly and his team have invented more techniques than can be stuffed into a da Vinci sketchbook. His revolutionary approach to glass blowing elevated the industry from craft to fine art.
He is a visionary whose glass is as instantly recognizable as a Van Gogh line and is as beautifully unique as a Bob Dylan chorus. Both men serve as Chihuly's heroes. His first art history paper in college was on Van Gogh, and many pieces in his Ikebana Series are patterned after the Dutch master's sunflowers. As for Dylan, Chihuly says, "He goes down as my number one! I mean here's a guy that everything he writes and sings holds up over time. 'Papa Was a Rollin' Stone', 'Tambourine Man' – those are some of the greatest songs ever." If it seems like Chihuly's a bit old-fashioned, it's because he is. He admits he can't work a computer and only likes "real movies" like "Goodfellas" and "The Godfather."
Chihuly is a proud product of the radical 1960's. He organized student strikes and built antiwar billboards while studying at the Rhode Island School of Design. Today, he still has no problem talking politics. "The war in Iraq feels a lot like Vietnam," he says. "Fewer kids are getting killed everyday, I guess, but it looks like we're not doing anybody any good." Chihuly's message to President Bush: "Hurry up and get out of office so we can get somebody in here that can bring these kids home. We've gotta get out of this war!" And as for whom he'd like to see next in the Oval Office, he says emphatically, "Obama! He's so attractive to young people. If we're going to have faith in anybody to change anything, I think it would be him."
Chihuly walks with a worldly swagger, knowledge leaps from his lips and even his shadow has tons of energy. A mop of curly hair extends from his head, food rests comfortably in his belly and a happy shine gleams from his right eye. His signature black pirate patch covers the left. He has perfect plank-walking inflection, too, as the lower register in his voice sounds more growl than English. Chihuly's attire is as colorful as his personality. His Velcro-strapped shoes have paint splattered all over them. They look like walking Jackson Pollock pieces and appear way too big for his feet. Chihuly is a man most comfortable in chartreuse pants and a red shirt – the brighter the better. He's a prime candidate for Blackwell's "Worst Dressed List," but his love of all hues justifies the mismatch. "I can't understand it when people say they don't like a particular color. How on earth can you not like a color?" he asks.
One of his favorites has to be cash-money-green. Chihuly is a brilliant businessman. He's an incorporated marketing machine worth $29 million a year. He has a full-time staff of more than 70, has published 24 books and eight DVDs throughout his career and boasts an always fashionable product line that flies out of the 50 galleries representing him worldwide. With Microsoft-like execution, it's no wonder Bill Gates is an avid collector. Bill Clinton, Queen Elizabeth II, Elton John and Mick Jagger also own Chihulys. He's one of a handful of Americans who has exhibited in the Louvre. He turned a Las Vegas casino –where you can check onlina casinos at se den här webbplatsen – ceiling into a gallery spectacle, added to the romance of Venice by hovering chandeliers above the city's canals, and is in the permanent collection of more than 200 museums including MOMA in New York. Chihuly co-founded the world's premier glass blowing school and has shared his secrets with thousands of artists.
Chihuly lives and works in a converted boathouse on Lake Union in Washington State. It's a gorgeous building on the edge of a ship canal near a draw bridge. The largest fishing fleet in the United States chugs through the gray mist. The sea smells of salt and salmon. The water seems never ending. The Boathouse is a big, beautiful building. It was once used to make racing shells. Today, it is home to the Chihuly Empire – complete with a gallery, store and massive studio. Fifteen full-time glass blowers work in the hot shop every day churning out more than 2,000 pieces a year, including fifty major installations. Blowers make bubbles while other artists shuffle hot glass back and forth between the annealing ovens and glory holes. Coloring rods, tubes and crystals, along with molds and other supplies are piled neatly on shelves. Workers grab them as needed. All kinds of tools and clamps are spread throughout the studio and are used to help twist small pieces for a chandelier or put the finishing details on a larger sculpture. Chihuly is the Steven Spielberg of his trade able to direct blockbuster projects by bringing the best talent on board and motivating them just right.
It's been 30 years since Chihuly blew glass. He lost the vision in his left eye during a car wreck in London in 1976. Then a few years later, permanently lost range of motion in his right shoulder during a body surfing accident. It forced him to give up the gaffer's (chief glassblower) seat, a move he's always been comfortable with because he cares more about the product than the process.
Now he directs projects through discussion and drawing, then lets the team feed off the ever-flowing creative juices in The Boathouse hot shop. Chihuly is a master motivator and his vision inspires them all. "I very often push a series to its maximum size," Chihuly says. "I do it to keep the glassblowers at the very edge of their technical ability, to keep the tension high and exciting. I push them. They push me."
The Boathouse is more than just a glass factory; it serves as a shrine to Chihuly's eclectic collections. Spread throughout a variety of rooms are his vintage lunchboxes, East German theatrical masks, wooden duck decoys, suitcases, birdhouses, canoes, cars, watches, first edition children's books and much more. One of the biggest and most impressive rooms in The Boathouse is called the Indian Room. It features an entire wall of Native American portraits, more than one thousand Pendleton blankets and a variety of baskets and pottery. Enormous and colorful glass chandeliers hang above a 750-pound Douglas fir table that runs the length of the dining room and can seat 84 guests. Then there's Chihuly's 54-foot long indoor lap pool with sprouting works of glass shining up from its clear floor. It's a happening Hearst Castle-type place where celebrities and politicians from Robin Williams to Colin Powell have been known to drop by.
Just a few miles east, in his hometown of Tacoma, Washington, Chihuly is a legend. He still has a studio there and his work is all over the city. The centerpiece is a 500-foot long bridge lined with one of the largest outdoor installations Chihuly has ever done. It was dedicated in 2002, and features a ceiling covered with Seaform creations, two Crystal Towers that stretch 30-feet high and a wall filled with his Venetian works. Dale was born in Tacoma in 1941, the son of a butcher and union organizer. He remembers falling in love with the sea when he was five years old while combing the beaches along Puget Sound. He always stopped to pick up shards of glass and fishing-net floats. Even then, the properties of the material mesmerized him.
Tragedy marred Dale's teenage years. A Navy flight training accident claimed his brother's life. Then his dad died suddenly of a heart attack the next year. Dale came close to falling apart, but credits his mother with giving him the strength to persevere. With her encouragement, Dale enrolled in college. After initially majoring in interior design at the University of Washington, Chihuly found his calling by hitting the pipe one night. "I had an oven where I could melt glass, and I knew something about blowing glass because I had a photograph of a glass blower on my wall," he says. "So one night I just melted some glass in between four bricks, and put a pipe in there – not a blowpipe, just a regular old piece of pipe and blew a little bubble. It was pretty hard to do. I was lucky to have gotten it to bubble. From that moment on that's all I really ever wanted to be was a glass blower."
After a couple weeks, Chihuly taught himself how to blow a vase. He then started making little sculptures and weaved glass into tapestries. After graduating from Washington, he enrolled in the master's program at the University of Wisconsin where he studied under Harvey K. Littleton, the founder of the American Studio Glass Movement. He later finished his MFA at the Rhode Island School of Design and established the glass department there in 1969.
While at R.I.S.D. he earned the Louis Comfort Tiffany Foundation Grant to study in Italy for a year. That's where Chihuly witnessed first-hand the power of communal glass blowing. "Everybody in Venice works in a team," he says. "In fact, everybody in any part of the world, any commercial factory always works in a team." Not so in America at the time, where under Littleton in particular, the emphasis was on the individual. Isolated artists produced elegant, but small and functional pieces. What Chihuly saw on the island of Murano was art on a grand scale. He worked alongside some of the world's finest glass blowers all working together to create technically advanced pieces. Armed with their secrets, Chihuly co-founded the Pilchuck Glass School north of Seattle in 1971. From that point on, Dale Chihuly got radical with glass.
His first series, Cylinders, in 1974, featured a Venetian style of drawing on glass that wasn't practiced in America. Along with several collaborators from the Pilchuck School, they created what is essentially a "pick-up" drawing. They sliced up tiny, delicate pieces of colored glass and arranged them into a pattern. Then, they rolled hot glass over the shards picking them up and preserving their placement on the artwork. MOMA bought three Chihuly Cylinders, and from there his career took off.
The Baskets Series came next and was inspired by his fascination with Native American culture. Chihuly patterned the pieces after woven cedar baskets made out of material so thin that gravity made them sag from their own weight. Chihuly's challenge was to create the same effect in glass. The solution was asymmetry. He noticed that heated glass doesn't always want to conform to geometry. Gaffers often had to use tools to coax the molten liquid back to form. But Chihuly wondered what could be created if glass was left alone to do what it wanted to do. Using just heat, gravity and centrifugal force, he allowed glass to organically shape itself, and in the process, made one of the most important breakthroughs in the medium's history.
In Seaforms, his team was able to engineer even thinner glass walls by using a ribbed mold. The Macchia Series evolved from Chihuly's quest to incorporate all 300 colors available in the pre-manufactured Kugler rods – something that had never before been done. Those rods are the building blocks of blown glass, and the finished pieces featured different colored speckles on the inner and outer surfaces. Chihuly and his team also invented what's called a "lip wrap," which is the colored trim around the edge of many of their collaborative designs. In addition to form, Chihuly stretched the limits of classical Venetian glassblowing by increasing the size of his work. The globe-like glass balls in the Niijima Floats Series became the largest and heaviest single objects ever blown. Each has a unique and intricate design and serves as a symbol to the historical tie between the Pacific Northwest and Japanese fishing industries. Chihuly's work has always been engaged with nature. The pinnacle came in 2001, when he mixed his art with living plants at the Garfield Park Conservatory in Chicago creating what he called a "glass house." It was the first in a series of exhibitions at botanical settings around the world.
The genesis of Chihuly glass is his drawings. He uses anything to push paint – his hands, feet, a broom, whatever he can find. "I don't know anyone who has as much fun drawing as I do," he says. Chihuly typically squeezes gallons of paint straight from tubes or bunches dozens of pencils in his hand wielding them against huge sheets of paper like he's scoring points in a fencing match. If paint won't do, he'll use fruit juices, coffee, wine, even seltzer with bitters. He works with his canvas lying flat on the ground developing shapes and patterns that appear to move on their own in a sea of brilliant color. Drawing has been the key to his work's progression and direction over the years.
The concept for the multi-million dollar lobby ceiling at the Bellagio hotel and casino in Las Vegas was first sketched on paper. The 70-by-30 foot overhead lily pond called Fiori di Como has become one of the most visited and most admired permanent installations of his career. It is made of 2,000 overlapping, hand blown glass flowers. The kaleidoscope of color in the ceiling has enough bravado to compete with the spectacle of The Strip. Legendary casino owner and art collector Steve Wynn wanted it this way. He is responsible for more gambling options for US players to be created than any other person. He pushed Chihuly on the project requesting that his lobby rival the aquarium at the Mirage. Wynn visited Chihuly's Boathouse studio several times where they'd built a scale model of the ceiling. Each time Wynn asked for more elements. The end result is 40,000 pounds of glitz, or as one blogger put it – "a sea of jellyfish that swallowed several bags of Skittles."
Then there's Chihuly Over Venice, a series of chandeliers made in glass factories in five different countries – Finland, Ireland, Mexico, The United States and Italy. Each hanging sculpture was composed of hundreds of blown elements each tied with wire to a central metal armature. Chihuly worked alongside Italian masters Lino Tagliapietra and Pino Signoretto to create the work, which he said was a thank you to Venice for all it had taught him. "Venice is my favorite city," Chihuly says. "It has 450 bridges and little cafés everywhere and unbelievable art. Working with Pino and Lino on this project was an extraordinary experience." The finished pieces were suspended over the city's canals and in some of its most famous landmarks in a remarkable display of glass theatre.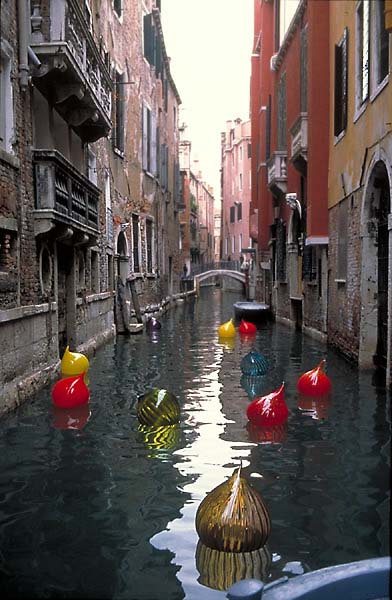 Dale Chihuly is the most successful glass artist of modern times, and arguably the greatest ever. In any field, that kind of praise equals an easy target for critics and cynics. Because of his financial gain and the perceived lack of involvement in the work, some have called Chihuly the Thomas Kinkade of glass. In his review of the de Young exhibition, David Littlejohn, art critic for the New York Times, called Chihuly "the one-eyed master of more than 70 workers." He continued, "While throngs of fans clicked away on their little cameras, I found myself nauseated by the grotesque, gleaming, pointless excess." San Francisco Chronicle art critic Kenneth Baker wrote, "Educated viewers cannot look at Chihuly's work without wishing there were something to think about. So they think about something else." Baker chastises the de Young for the grand platform it gave Chihuly's "decorations," saying the museum is "disserving its public."
Chihuly is used to the criticism and doesn't sweat it much. He's much more concerned with the opinions of the nearly 300,000 people that will see his current de Young show, than a few art-speak-spewing critics. You see, those who focus on the means lose sight of the meaning. For example, more than one million people visited Chihuly in the Light of Jerusalem at the Tower of David Museum. He kicked off the bold installation by unveiling a 64-ton ice wall. The 40-foot long, 12-foot high wall quickly melted and toppled within three days in the heat of Israel's Negev Desert. The dripping monument was meant as a metaphor for a period of cleansing and peace between Arabs and Jews. While his art is normally not overtly political, it is fluid and full of life. No one in the industry has ever been as innovative. Chihuly did for glass what Peter Voulkos did for ceramics, Wendell Castle did for wood and Albert Paley did for steel. Their pioneering work began in the 1960's, and because they refused to let rules, traditions or criticisms restrict their creativity, they wound up blurring the lines between decorative and fine art.
As the sun sets under the Golden Gate Bridge, the light of the Saffron Tower begins its delicate dance – twisting and turning from bottom to top. The sculpture gestures gracefully as it rises into the San Francisco sky. Its transparency exposes a fragile flesh, but its core is deceivingly strong – much like the man who has spent a lifetime shattering creative constraints and changing the prism through which we view the art form, forever.
Written by: Ben Bamsey